Excellence at the attendance and results, this is our commitment!

It has been in the market for over 22 years and PROMINAS figure as a reference in: Mining Projects, Consulting, Mine Engineering Projects and Geology. The name PROMINAS is associated with several mining companies and we lead the supply of mining software in Brazil.

THE PROMINAS offers its clients a complete consultancy in the mining area. With a highly skilled team, we offer solutions from the exploration phase to mine closure. Excellence in service and results is our commitment!
O HxGN MinePlan® is an advanced software that meets all mining needs. As a high-tech 3-D system, the HxGN MinePlan® is capable of providing interactive editing that all types of data pertaining to mining projects.
It is a new division of PROMINAS which develops and delivers advanced development programs for the training of professionals in the mining area. From data management to drilling and blasting. Because knowledge is a differential!
Meet some of our satisfied and serviced customers below.
LOOKING FOR QUALITY AND AGILITY
Pushback Naming – MinePlan Project Evaluator: Automatically naming pushbacks generated during optimization. Did you know that the MinePlan Project Evaluator (MPPE) features an option that makes it easy to nominate different pushbacks created in your project? During the pit optimization stage, it is common to work with a large volume of information, especially after carrying out sensitivity analyses. Therefore, organizing data is a great way to facilitate the workflow of a project. In MinePlan Project Evaluator (MPPE), when working on the Pushback Task to generate mining phases, you can automatically name, through the use of tokens, the different pushbacks created by the optimization. This can be done via the Pushback Name option. Tokens can be assigned names considering parameters such as: incremental order of phases; economic function that was used; methodology for defining…
Data Manager: Organizing data and managing object visualization. Did you know that MinePlan 3D (MP3D) has in its interface a section dedicated to the organization and management of your data? The Data Manager, located on the left part of the MinePlan interface, is responsible for functions such as managing, creating and deleting folders and objects from a project, opening and closing folders and objects, importing and exporting data, among others. . It is divided into two tabs: the Project View tab, which contains all project folders and objects in the upper part, and the contents of the selected folder in the lower part. And the Open View tab, where only the data that is open is shown at the top, and the Materials assigned to elements of those objects are shown at the bottom. Figure 1…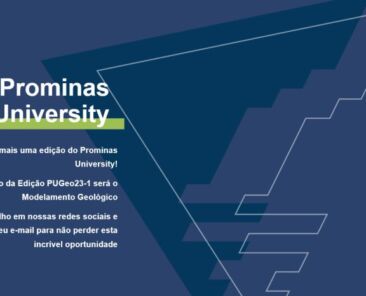 Are you aware of the news? Registration is open for the NEW edition of our immersion and technical training program, Prominas University. Get ready for a dive into the world of Geological Modeling! It is with great satisfaction that we announce the next edition of Prominas University – PUGeo23-1, an unmissable event for geology students and professionals. This time, our focus will be on the fascinating universe of Geological Modeling, an essential discipline in our area of work. We want to provide an enriching and practical experience, where you can deepen your knowledge, improve your skills and expand your network of contacts in this dynamic area. If you are a student or newly graduated professional passionate about Geology, this is the perfect opportunity to update yourself and connect with other colleagues in the field, and all this for free! Program Start: 26/06/2023 Duration 2 weeks…
Are you aware of the news? Applications are now open for the NEW edition of our immersion and technical training program, Prominas University, this time focused on Rock Mining and Industrial Minerals. The objective of this edition is to train mining professionals, such as Mining Technicians, Geology Technicians, Mining Engineers and Geologists. The main focus will be professionals who have recently graduated or who will soon complete their training. Participants will learn hands-on about the workings of the HxGN MinePlan Quarry tools and suites, which contain features specifically designed for industrial rock and mineral operations. The main topics covered during the program will be: MinePlan 3D – CAD; MinePlan Torque – Geological database management; MinePlan Block Modeling and Resource Estimation; MinePlan Pit Expansion; MinePlan Road Design; MinePlan Dump Design; MinePlan Reconciliation Tool; MinePlan Planner…